Go higher with an employment focused degree at an Activate Learning college.
Our programmes are arranged according to levels. Levels are learning stages which guide you through our career pathways maps.
Our Higher Education programmes typically run from Level 4 (Higher National Certificates and Higher Apprenticeships) through Level 5 (Higher National Diplomas and Foundation Degrees) to Level 6 (Bachelor or Arts or Science Honours Degrees).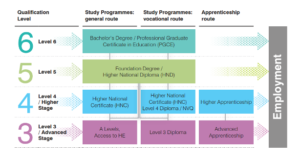 Find out about University Level qualifications.
Higher National Certificate (HNC) – Level 4
A HNC takes one year to complete if studying full-time or two years part-time and is generally the equivalent to the first year of university. It can be used to progress to a Higher National Diploma (HND).
Higher National Diploma (HND) – Level 5
A HND takes two years to complete if studying full-time and is equivalent to the second year of university. It is also a work-related course.
Foundation Degree (FDA/FDSC) – Level 5
A Foundation Degree is equivalent to the first two years at University and is a combination of workplace learning and studying at college.
Top-Up BA (HONS) & BSC (HONS) Degrees – Level 6
A top-up degree is equivalent to the third and final year of an undergraduate course. Which allows you to top-up a foundation degree, to a full BA (Hons) or BSc (Hons) degree.
Professional Graduate/Postgraduate Certification In Education (PGCE) – LEVEL 6/7
Professional Graduate Certificate in Education (Level 6) is for those wishing to become a teacher in the post-compulsory sector or an advanced pathway for those completing a Diploma in Education and Training Level 5.
The Postgraduate Certificate in Education (Level 7) provides training in order to allow graduates to become teachers within maintained schools. In addition to gaining the PGCE qualification itself, those who have successfully completed the course are recommended for qualified teacher status (QTS).
The initial deadline for HE applications is January 26 for September 2022 entry.