A group of hairdressing students from Reading College have shown they are a cut above the rest by making it into the final of Concept Hair Magazine's Learner of the Year 2021 competition.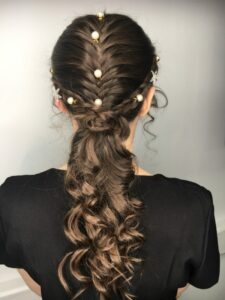 The annual competition gives the next generation of hairdressers and barbers the chance to be recognised for their hard work and skills.
To enter the first round, each of the young hairdressers submitted a photo of their finished hairstyle for the Festival Hair category in December 2020. This is the first time that the students have entered this particular competition.
All of the Level 1 hairdressing students successfully made it through to the final.
Rochell Fernandes is studying a Hairdressing Level 1 Certificate at Reading College. Her winning style featured a fishtail plait and two three-strand braids, embellished with hair accessories.
"Before I created this hairstyle, I created a vision board to gather some ideas for my final piece. I chose my second option which is a fishtail and two braids on the sides because it looked more special and gave me the festival feeling," Rochell said.
"This hairstyle took me around an hour and 15 minutes to construct. I sectioned the hair and I started braiding a fishtail braid from the crown down to the nape. Next, I created the braids on each side. I used a curling iron to get some bouncy curls. Finally, I finished it with hairspray to hold the style together and added some hair accessories.
"When I found out I was selected for the final round I was super excited. I have started looking for inspiration on YouTube for my second festival hairstyle."
Each of the finalists will need to create a new look and a vision board to be in with a chance of representing Reading College in the final that takes place in March. The winners will be announced in April.
Anne Powis, Hairdressing Lecturer at Activate Learning said: "I encourage all my students in all levels to enter the annual competitions that are open to them, this year over half the Level 1 students who entered made it through to the finals.
"All the students have found this opportunity inspiring, as a way to demonstrate, build on their creative skills and push them out of their comfort zone to boost their confidence.
"It was a fun day and they all worked well as part of a team to encourage each other.  I am proud of all of them just for participating, whether they win or not!"
Find out more about hairdressing courses at Activate Learning or contact us on 0800 612 6008.