A photography student from Bracknell and Wokingham College has snapped her way to success by being selected as runner-up in a local photography competition.
The Wokingham Borough Mayor Cllr Malcolm Richards and Home-Start Wokingham District launched a photography competition at the beginning of March, inviting young people and adults living in the Wokingham Borough to enter.
The contest was held in further celebration of Home Start's 25th anniversary. Home Start are a local community network of trained volunteers who support families with young children during challenging circumstances.
Local residents were given the theme of Out of Home-Starts and asked to illustrate the outdoor environment in their entry. After seeing the competition on Facebook, Lauren who is currently studying A Levels in Photography and Psychology at the college on Church Road, decided to enter.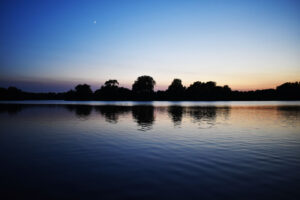 "I took my photograph at Dinton Pastures, in the evening to capture the sunset," Lauren said.
"We found a spot where there was quite a lot of water so there were a lot of reflections. There were also lots of bushes by the lake which reflected in the water as well. The sky was different shades of blue."
The entries were split into two categories, young people (12–17-year-olds) and adults (18 and over). The panel of judges included the Wokingham Borough Mayor Malcolm Richards, the Chair of Trustees of Home-Start Wokingham District and two local professional photographers.
The competition received a good number of entries. The decisions were made recently, and the awards, certificates and prizes were presented on 18 May, at the Home-Start Wokingham premises in Shinfield. Lauren was awarded second place in the young people category and received a box to store photos as a prize.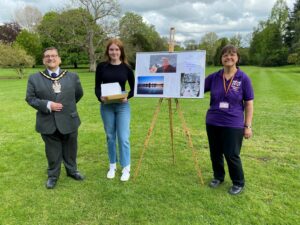 "It was a bit of a surprise! It made me realise that I could go somewhere with my photography and gave me a confidence boost," Lauren added.
Lauren bought her first camera in May 2020, during the first lockdown because she had a keen interest in the subject. She decided to study it at A Level at the college and is going to start a Photography Level 3 Extended Diploma in September, with the aim of studying photography at university and pursuing a career in the subject.
Wokingham Borough Mayor, Cllr Malcolm Richards said: "Lauren's submitted two photos of a lake scene, one of them in colour at sunset with a second image of the distanced horizon and surface scene reflected upside down on the surface of the lake – were both of good quality, but the one we all liked most was of the sunset.
"We thought it was both creative, well composed and well photographed, and the reflection added to the impact of the photo. Which is why Lauren was amongst the top three winners in her group."
Nicholas Brewer, Photography Lecturer at Activate Learning said: "I was thrilled for Lauren, it is a great achievement and something that I hope will spur her on for future competitions.
"It is wonderful to see learners taking risks and putting themselves out there.
"It has been a pleasure to teach Lauren over the past year. She is a hard-working and talented student who has huge drive, determination and natural ability for the subject."
Find out about our A Level courses available to study at Bracknell and Wokingham College or contact us on 0800 612 6008.