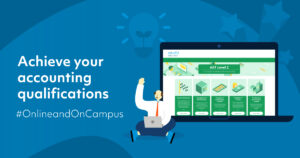 Activate Learning's Bracknell and Wokingham College is working in partnership with Mindful Education to deliver award-winning professional courses, crafted to make teaching and learning fit in and around work and life commitments. 
Increasing numbers of adult learners are looking to retrain or change career as a result of increasing unemployment caused by the pandemic, and we have sought to provide an innovative teaching solution to meet these needs.  
Delivered in partnership with Mindful Education, our Online and On Campus courses offer high-quality, flexible professional qualifications in accounting, accredited by the Association of Accounting Technicians (AAT). 
Video lessons can be accessed at any time, using any device, allowing learners to choose how, when and where they want to study. Students also benefit from regular college classes, where learning is supported through group exercises and classroom-based learning with an experienced tutor. 
Funding is available to assist learners with the Level 2 AAT course and the Level 3 AAT course is fully funded (i.e. free of charge) to eligible learners.  
Peter Reynolds, Director of Career Pathways at Activate Learning, said: "We are delighted to for this partnership with Mindful Educations to enable us to continue to offer Accountancy qualifications to hundreds of students each year. The mix of face-to-face teaching supported by Mindful Education's award-winning online resources make this a great formula for success." 
For more information about Bracknell and Wokingham College's partnership with Mindful Education and the funding available click here. https://adult.activatelearning.ac.uk/blended-learning/