Two photography students from Bracknell and Wokingham College have created some promotional images for an animal rights charity.
The charity, NoToDogMeat, placed an advert in the Metro newspaper, looking for film makers and creatives to help with their marketing. As a small charity, they needed to rely on the good will of the creative sector to help get their message across.
London-based NoToDogMeat is a UK-based animal rights charity and a vegetarian organisation, who works with local campaigners in countries with a dog and cat meat trade who want to make a change. They also take part in many rescue efforts, and the charity's shelter in Beijing currently provides a safe home for 450 dogs.
The charity, which is legally known as World Protection for Dogs and Cats in the Meat Trade, also campaigns against the killing of animals in the fur trade.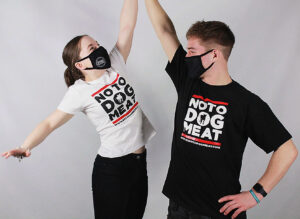 Photography students Alfie and Bex took up the challenge and produced a range of portraits modelling the merchandise. The images show an energetic response, full of spontaneity and vitality.
Alfie said: "The charity wanted to team up with creatives, we both thought that it was a good opportunity for us to get more experience, learn something new and get our names out there, so we thought that we could help them out.
"They asked us to photograph their products for their website and from there on we had free range of our own ideas for the website. We had a look at their website to see what they'd previously done and tried matching it to their level and make sure it fits nicely.
"We used each other as models and took photographs of each other, because we thought it would be easier. We could have fun with it and see what we could do. It worked quite well."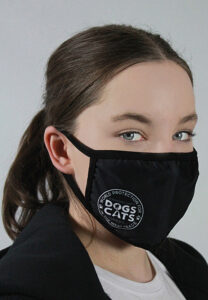 Nicholas Brewer, Photography Lecturer at Activate Learning, said: "I approached the charity in response to their advert. I asked Bex and Alfie as they are both capable, professional and doing well in their course. I knew they were both dog owners, so this helped. I am delighted with the work they produced and look forward to seeing what they do next."
Julia de Cadenet, CEO of the NoToDogMeat charity also expressed her support for Bex and Alfie.
She said: "NoToDogMeat is about building compassion one brick at a time, and brilliant projects like this are all part of that.
"In the UK, and all over the world, including in countries like China, the younger generation are rejecting past traditions and viewpoints. And this can only help further the aims of NoToDogMeat.
"These pictures are absolutely wonderful, well done Bex and Alfie and thank you!"
Alfie and Bex are currently studying a Photography Level 3 Extended Diploma at the Church Road campus and hope to either progress onto further study or pursue employment opportunities in the creative industry, when they finish their course.
Find out about our Visual Art and Design courses at Bracknell and Wokingham College or contact us on 0800 612 6008.