Since the beginning of the pandemic, many of us have made the most of the opportunity to jump on our bikes for our outdoor exercise. Blessed with good weather across Spring and Summer last year, as well as the beautiful countryside that surrounds us, a huge number of people got in the saddle and incorporated a bike ride into their designated outdoor activity of the day!
In acknowledgement of this unprecedented increase in demand for all things bike, Bracknell and Wokingham College, part Activate Learning, is delighted to announce that a new cycle maintenance training workshop has opened on site. This brand-new workshop, built in partnership with Cytech training provider, Activate Cycle Academy (ACA) is the latest addition to their expanding number of Cytech training workshops across the country.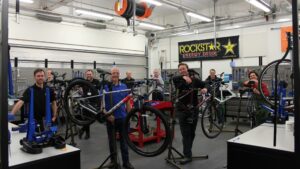 Matt Grant, Sales and Marketing Manager at Activate Cycle Academy said "Bracknell is now our fourth workshop in England, the second we have opened during the COVID-19 pandemic.
"I am delighted to say that the need for us to increase our training capacity to meet the demand for Cytech training continues as we are seeing more and more people looking to retrain and upskill as a cycle technician to join the buoyant cycle trade sector."
This purpose-built workshop in the heart of Bracknell town centre offers the very latest state-of-the-art cycle maintenance training facility. With Park Tools continuing its partnership in supporting all of ACA's workshops, all trainees can expect to be working with, training on and using the very latest tools and equipment from some of the world's finest bicycle manufacturers and distributors when they attend a Cytech course.
Matt continues, "Our team has worked exceptionally hard to get this fantastic workshop open in these challenging times. We had to navigate the latest lockdown at the start of the year, when all our workshops were closed, in line with all other educational and training establishments and to deal with ever increasing lead times for orders of tools, bikes and equipment. It's been a remarkable achievement and one we're all immensely proud of."
Delivering Cytech courses, Activate Cycle Academy's facility will initially be utilised by staff in the bicycle trade as well as people looking to retrain and join the cycle industry, and will deliver cycle maintenance training to people from across the South of England. Cytech Home Mechanic courses for cycling enthusiasts are also available.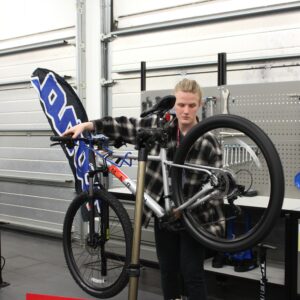 Konrad Dadej recently did a course at the Bracknell and Wokingham College branch of Activate Cycle Academy.
He said: "I really enjoyed it. The teachers were very approachable. It firmed up a lot of the knowledge that I already had and learnt a lot of new tricks to help me do some of the jobs quicker."
Gary Skippon said: "I thought that it was a wonderful course, which was very informative. It's made me more confident in handling my bike and being able to look over it and change parts as and when I need to."
The new Bracknell workshop is already open for training. Find out more about course dates and availability at Activate Cycle Academy. However, with the course in high demand, early booking is essential. For more details, contact the ACA sales team on 01865 550324 or at cycles@activatelearning.ac.uk
August saw the ACA's first sign up to the new Apprenticeship in Bicycle Mechanics. This comes after the Government's funding announcement to further support employers taking on new apprentices.