Black History Month is a monthly celebration of the history, culture and achievements of black communities worldwide.
Celebrate Black History Month with BorrowBox
Our Learning Environments team have put together a diverse and thought-provoking choice of over 50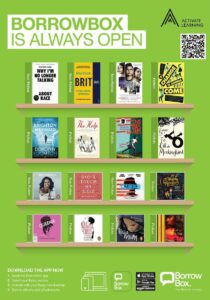 eBooks and eAudiobooks, all of which are accessible via our BorrowBox App, which is free for you to access 24 hours a day, seven days a week. Don't Touch My Hair, the Noughts and Crosses series, Becoming, Half of a Yellow Sun, The Help and Small Island are just some of the titles on offer.
Discover our ALO resources
You can log into your ALO dashboard to find a wealth of resources to help you understand why Black History Month is important and what you can do to support it and celebrate it. Each week there will be a different theme, from What Racism Looks Like in the 21st Century to Being an Ally.
Pride in Black Culture
As part of Black History Month, we're showcasing some modern-day figures in society, those who will inspire and lead the next generation.
David Olusoga
David Olusoga is a British-Nigerian historian, author, broadcaster and BAFTA award-winning presenter and filmmaker. He is Professor of Public History at The University of Manchester. He regularly contributes to the Guardian, Observer, New Statesman and BBC History Magazine. He has written many books, including Black and British, which is available to read from our Learning Environments.
He has presented many television programmes, including:
Black and British: A Forgotten History
Barack Obama Talks to David Olusoga
Britain's Forgotten Slave Owners
The Unwanted: The Secret Windrush Files
The first black Woman in space, Mae now works on encouraging women into STEM roles: "To change the image of who does science. That's important not only for folks who want to go into science, but for the folks who fund science."
Sir David Adjaye is a successful Ghanaian-British architect. As a child, he saw inequalities faced by the physically disabled and came to realise that architecture should serve the people.
Not only an amazing artist, MNEK arranged Pride in Music camp to help emerging LGBT+ talent find a safe space to work in. MNEK himself has experienced judgment from within the industry due to his sexual orientation.
Lennie James
Lennie James is a British actor, screenwriter and playwright, who wrote and starred in 'Save Me'. Despite his success, family life and busy schedule, Lennie also makes time to mentor black inner-city kids.
Avery Francis
Avery is an influencer (@averyfrancis), who founded Build with Bloom, an organisation which champions growth in businesses through diversity and inclusivity.
Gloria Onitiri
Gloria currently stars in the West End show Cinderella as The Godmother, and is creator of Letter to a Black Girl podcast, which was based on her own childhood poems growing up in the UK. It features discussions from some of the best of Britain's black women.
Inspired by a series of poems she wrote based on her experiences as a young black girl in the UK & now embracing her womanhood, Gloria is offering something positive & refreshing as a gift to the current climate & the issue of visibility for black people in the UK. pic.twitter.com/2nGpONw4Fq

— Letter To A Black Girl (@LTABGPod) September 28, 2020
Other ways to celebrate and support Black History Month
But it doesn't have to stop there, there are loads of books, podcasts, television programmes, films out there that you can enjoy and educate yourself through.
Audiobooks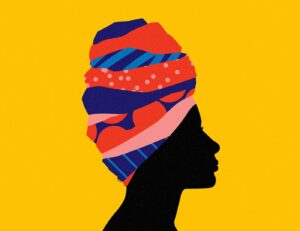 Girl, Woman, Other by Bernadine Evaristo
Listen to Bernardine Evaristo's 2019 Booker Prize-winning novel that follows the lives of twelve extraordinary characters. Also available to access as an eBook via our Learning Environments.
People Like Us by Hashi Mohamed
Hashi Mohamed is a barrister who tells his story while looking at social mobility in the UK, exploring poverty, questions of race, class, education, language and integration.
Podcasts
Songs To Live By is a celebration of Black culture through the music we love, presented by Vick Hope.
Television and films
Here are just a handful of our favourites.
Follow the story of three black female mathematicians working at NASA during the space race.
The Help
A story of a young, white author during the civil rights movement of the 1960s, who writes a book from the POV of African American maids and their view of the white families they work for and the hardships they go through on a daily basis.
In this eye-opening documentary series, historian David Olusoga explores the relationship between Britain and people whose origins lie in Africa. From African Romans to slavery, to black sailors who fought for Britain to the shaping of black British identity in the 20th Century.
A collection of films and tv programmes celebrating black lives and culture, spanning British history, comedy, entertainment, drama, documentaries and films.
Follow the story of Eunice and what it's like for her to live in post-war Britain.
A dystopian drama set in London explores the taboo relationship between Seph and Callum, who fall in love despite a black elite and white underclass divide.
An intense drama explores important themes such as sexual assault, racism and homophobia as a young black writer and influencer navigates life and trauma in central London.
Notting Hill Carnival is here. Follow Jade and Nadine as they stand up to find their own place in the world.
Alan Yentob meets the Anglo-Nigerian author Bernadine Evaristo, writer of the Booker Prize-winning novel Girl, Women, Other and tells the inspiration behind her latest book, Manifesto: On Never Giving Up.