Media and gaming and IT and computing students at Activate Learning enjoyed an inspirational virtual talk from celebrated games company, Rebellion recently.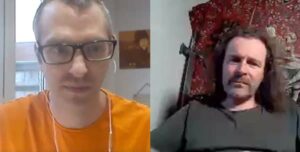 Students were joined by Rebellion's CEO and Co-founder, Jason Kingsley OBE in a discussion and open Q&A session.
Jason and his brother, Chris Kingsley OBE, founded the award-winning studio in 1992.
With headquarters in Oxford and three additional offices nationwide, Rebellion is one of Europe's largest multimedia studios. The company develop and produce celebrated video games, comics, books, TV programmes and films.
Jason Kingsley, CEO and Co-founder of Rebellion, said: "I was very pleased to be doing this talk. It was a pleasure speaking with the students and I'd like to thank them for listening closely throughout and for all of their questions."
During the hour-long session, Jason discussed his own career, how staff work at Rebellion and the UK games and film industry.
This was followed by a Q&A session where students asked how to gain work experience, develop their careers within the industry and in-depth questions about the game making process at Rebellion.
Harold Little, Media and Gaming Level 3 Diploma student at City of Oxford College, said: "Having a conversation with someone as interesting as Jason was amazing.
"I learnt more about writing and the games industry and now have no excuse to drive for my goals!"
Iain Landles, Career Pathway Director for Creative Industries at City of Oxford College, said: "Rebellion and Activate Learning have been working together for the past two years, chiefly, to organise work experience and industry placements for our students.
"Both organisations see the development of a pipeline of young talent servicing Rebellion not only in gaming but also the film industry.
"We expect our partnership to grow this can only benefit our students.  I am very excited in having Jason talk to the students and can't wait to hear their questions to him."