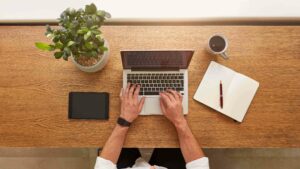 A group of 10 students studying IT at Bracknell and Wokingham College and Reading College took part in work experience at Vodafone from 15-19 February. 
This is the third year running that students from Activate Learning have taken part in work experience with Vodafone, although this year, the work experience was carried out on a remote or virtual basis due to the COVID-19 pandemic.  
During their placement, the students learnt about Vodafone and different areas of the business including telecommunications, emotional intelligence, digital technology, consumers, sales and much more. The students also worked on a group project involving a presentation about user experience and product design which helped them to develop their communication, presentation and team working skills. 
To apply for the work experience, each of the students completed an online application form where they had to detail their skills and give evidence of their achievements. This is beneficial because it helped them to organise their experiences and aspirations into one document as well as giving them experience of how to apply for other work experience placements, internships and job opportunities in the future.  
As all of the students are currently in their first year of their course, the work experience placement will help them to develop new skills, grow in confidence and look good on their CV and UCAS applications.  
Janet Ali is studying an IT and Computing Level 3 Extended Diploma at Reading College.  
"I was very excited about Vodafone's work experience week," Janet said.  
"I learned a lot from the company and what they're all about. Having this opportunity will definitely help me grow in the future." 
Preeti Vohra, Lecturer in IT at Activate Learning said: "I personally believe that work experience is an imperative part of students' learning journeys.  
"An opportunity to take their skills, knowledge and behaviour from the classroom and apply them within a real-world environment, which will help them to develop as a well-rounded individual. 
"Thank you to Vodafone for providing this wonderful opportunity for our students." 
Asha Jagatia, HR Specialist at Vodafone UK said: "I'm delighted to be launching Innovators, Vodafone's first virtual work experience programme with Springpod! 
"This week we welcomed over 250 students to the programme, which included 10 students from Activate Learning. The students learnt about key business and technology areas before putting it all to the test by designing their own Internet of Things product. 
"Hosting the event virtually also removes some of the geographic barriers and inequalities that exist today, enabling us to reach students from all backgrounds." 
Find out more about IT and computing courses at Bracknell and Wokingham College or Reading College or contact us on 0800 612 6008.