On 11 February 2021, the sixth International Day of Women and Girls in Science Assembly will be held at the United Nations Headquarters virtually.
This year's topic is women scientists at the forefront of the fight against COVID-19, focusing on women researchers in different stages of the fight against COVID-19 and on the impact the pandemic has had on the gender gap in science.
We spoke to some of our female employer partners and students working and learning in this exciting field to tell us more about their experiences.
Alice Newman – employer partner
Alice is one of our employer partners at Reading Scientific Services. She told us why she chose a career in chemistry:
"I had always been good at science at school and found it really interesting, which is why I chose A Levels in chemistry, maths and physics. I wasn't sure initially what I wanted to study at university (and ended up applying for five different STEM courses).
Having attended the Chemistry Open Day at the University of Surrey, I knew this was the subject for me (they made ice cream with liquid nitrogen).
​Studying chemistry was challenging, enjoyable, frustrating and rewarding, but I knew this was the choice for me as I enjoyed learning new things and loved finding out how things worked. Chemistry can also lead into lots of different areas such as food science, pharmaceuticals and forensics.​"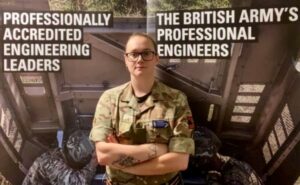 Ashley Scott – Royal Electrical and Mechanical Engineers
Ashley or to give her her proper title, LCpl A V Scott​, is part of the Royal Electrical and Mechanical Engineers (REME), the Army's Corps of Professional engineers. REME works with Activate Learning students in projects including the Craftsmen Cup, providing invaluable experience to our learners.
"When I was a child, I often spent time helping my dad while he was tinkering on his own cars. This is probably where my interest in STEM began. Since then, I have always enjoyed figuring out how things work and working with my hands, so a career in mechanics was an obvious choice for me.
"Another aspect of why I chose a career in STEM is that these sectors are always going to be needed and looking to the future there will always be a career opportunity for me. Currently I am working towards a science degree with the Open University to help broaden my opportunities in other STEM fields.
"Taking a career in STEM is a rewarding and exciting experience, it is something that everyone should honestly consider. Being able to show that this is an open and viable option for women will encourage others to see if it is a suitable option for them​." ​
Ioana Ouatu – Game Development Level 2 student
Ioana decided to study a STEM subject because "studying and working in STEM means learning about the world around you, finding a new solution to the real-world challenges and play a role in it.
"I'm impressed by the complexity of creative media and gaming development. It is a perfect path for me, the transferable skills that I will learn are exceptionally valuable. Lastly, I believe in gender equality."​